derrick rose wallpaper bulls.
Super Dave
Aug 5, 06:35 PM
Recall that Tiger features saw significant UI overhauls (Dashboard, Spotlight, Automator) from the original Tiger demos at WWDC until it's reshowing at Macworld. Apple has no reason to rush this out after WWDC.

You can bank on 07. First Half. No sooner than April.

You're right that there is "no reason to rush" except it would be awfully fun to beat Vista to market AGAIN.

David :cool:
---
chicago ulls derrick rose wallpaper. derrick rose wallpaper bulls.
Blue Velvet
Apr 27, 03:19 PM
I tried, I discovered layers.

Fact: There are "layers" if you can even call them that.
Another Fact: They mean nothing.

They're not layers in any common use of the word in design. However, for want of a better word, they're elements. Those looking for them need to view the file in outline mode in Illustrator (Apple Y)

Of course not, they will find something else to argue about.

True... and I'll leave that for others. It was a mistake of mine to look at MR today and be sucked into the stupidity. Now I really must take leave of all of you...
---
derrick rose wallpaper bulls. derrick rose wallpaper bulls.
Lord Blackadder
Mar 22, 10:19 PM
The U.N. Security Council perhaps, but not the entire assembly. It would have been interesting to open that issue up to debate and seen how all the members would have voted.

The security council, not the general assembly, is the organ tasked with authorizing UN military action. The point of the security council is to enable the UN to make rapid strategic decisions without a general debate. It's an imperfect system to be sure, but I don't think requiring a full debate in the general assembly would be an efficient way to respond to this sort of situation.

What I always wonder is what diplomatic efforts were used to pressure Qaddafi? There were no (as far as I know) threats of economic embargoes, freezing of assets, or other less violent methods to coerce Qaddafi. We didn't need to convince him to step dow. We simply needed to convince him that he needed to tone down, defend himself against the armed insurrection, but not cast a wider and violent campaign against innocent civilians.

We could have responded simply with economic sanctions.

Based on Gaddafi's treatment of the initial protests (not to mention his tendencies over 40 years of autocratic rule), I strongly question whether economic sanctions are going to apply sufficient pressure to Gaddafi to relinquish power. Like Mubarak, he is a political strongman who is not easily cowed by threats.

I need a clearer demonstration that serious steps were taken before resorting to war. War should be used as the last resort and only when it's clear that all other options have failed.

I agree that war should be considered a last resort. I also think that the US government is generally too quick to undertake armed intervention. But in this case we took sides in a war that was already in progress. The UN's choices were either non-intervention, non-military intervention, or direct military intervention in some form.

I suppose the point at which "all other options have failed" is a debatable one, since everyone has different opinions on what constitutes a valid option. There are many questions without simple answers. How do we judge failure? Is the purpose of the intervention (military or otherwise) to aid the rebels? Or is it merely to prevent Gaddafi killing civilians? If the latter is the case, does allowing him to remain in power serve that cause? If not, what should we do about it?

At the bottom of all this though, the goal of current foreign intervention (military or otherwise) is clear to me - to remove Gaddafi from power and recognize the rebel transitional government as the legitimate government of Libya.
---
derrick rose wallpaper bulls.
if leopard is not enough here's some more new features: Leopard-Server (http://www.apple.com/server/macosx/leopard/)

i think leopard-server is going to have some cool things for the enterprise-market :rolleyes:
---
derrick rose wallpaper bulls.
The screen is not 50% smaller. Nice way of making yourself look stupid.

LOL

http://i54.tinypic.com/dma9nn.png
---
derrick rose wallpaper bulls.
flopticalcube
Apr 27, 09:33 AM
So many critical issues to discuss and serious problems to overcome and people are still talking about ********** birth certificates? :rolleyes:
---
New derrick rose finally;
mlrproducts
Aug 11, 10:20 AM
Hurry up and take my money Apple! Here is my wishlist, the first section is PLAUSIBLE:

1) Released for GSM sim cards (probable, maybe support for CDMA later on)
2) Bluetooth (well, I think this is a given)
3) Good integration with iCal, Mail, etc

Now what I WANT that might not happen:
4) Not tied to a service provider
5) Affordable LOL
6) Wifi built in
7) Modem support for dialup over GSM
8) Lightweight, small FF
---
derrick rose wallpaper bulls.
chrmjenkins
Apr 11, 03:26 PM
Does Arn write every single article on this forum?

No, my guess is Eric Slivka is on vacation or something. He writes the majority of MR articles unless arn specifically wanted to take that over.
---
derrick rose wallpaper bulls.
I don't get all the negative ratings/comments.

1. Competition is good (I know this is hardly an original point)



People keep saying that but in the smartphone market and now especially in the tablet market we have seen no evidence of that at all.

In the tablet market Apple has released an iPad and an iPad 2 with literally no competition to impact their design or product and they have both been home runs.

In the smart phone market, the iPhone came along and 4+ years later the only competition are all iPhone clones. There is no competition pushing or driving the market. Apple drives the market for both these segments and they do it regardless of what the competition is doing... and all the competition is doing in both cases is copying Apple, so that makes no difference at all.

So besides being cliche and tired, the competition is good mantra is not even accurate or true when it comes to these Apple market segments.
---
derrick rose wallpaper chicago
Snowy_River
Jul 31, 10:37 AM
Now you've got some skills. I especially like the shadowing, reflections and detail on the back side. Very nice.

I agree with your size assessment.

Actually, our designs are quite close, differing primarily in cosmetics. What I'm refering to is my earlier design, (which I suspect you missed) not boncellis'. boncellis wished to see a wider, flatter version for use in home entertainment, so I conjured that 2nd one up for visualization. While that form factor has grown on me somewhat, I still like the taller version, as I had done earlier, and you've shown here, as well.

Here's my initial design, from earlier in this thread.
http://img92.imageshack.us/img92/9648/macandmacminipx9.jpg
The size of mine is a little smaller (narrower) - I wanted the whole thing less than 8" wide, though it could go back a little deeper, i.e. not necessarily square.

Also, see possible/hoped for product specs earlier in the thread.

Personally, I think I still prefer the smoother Mini-like skin than the perforated look of the Pro, but I'm just quibbling.

Thanks for the imagery.

-Dan

Thank you. I had fun doing it. Although I realized later that my MP is missing the Apple Logo on the side. Oh well.

I did see your earlier design, actually. I had though that it was meant to be the same footprint as the Mac Mini. Seeing it again, I can see that I was mistaken. By comparison, my design is 10"W x 11"D x 4"H. I think to bring it down to the MP 8.1"W, it would have to be made taller, to be reasonable.

Also, in the vein of quibbling, I think that the perforated look of the MP allows for much better cooling, and therefore hotter components, such as extra boards, faster processors, higher-end GPU, etc. That's the reason I went with it... :)

Maybe now I should draw a scene with the Mac++, a keyboard, a mouse, and an ACD. What do you think?
---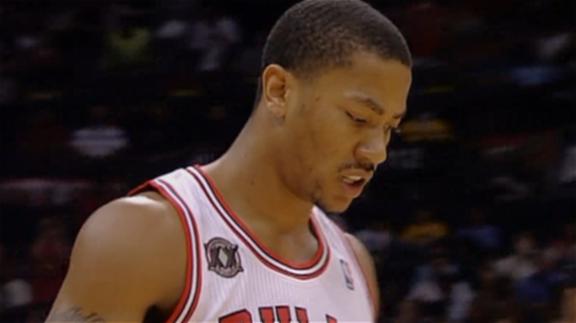 chicago ulls derrick rose wallpaper. chicago ulls derrick rose
Now they're saying white won't be available until later this summer. dammit, i wanted white!
http://modmyi.com/forums/iphone-news/714102-exclusive-iphone-4-only-black-initially.htmlThat's BS. I bought my white 3GS last year on launch day. No way is Apple only making black phones to begin with.

I guess this means the only way to be sure we can get a white one is to pre-order with Apple. So much for the Radiio Shack trade-in program. I'll just let Fed-Ex do the walking for me.
---
derrick rose wallpaper bulls.
infowarfare
Apr 5, 05:22 PM
Problem is, its still Final Cut and will still suck at managing media.

I'm not trolling, this is an honest question. But isn't a Final Cut pretty much worthless for commercial use without a way to put the results on Blu-Ray?

Really? And yet, it seems to be good enough for the top directors in the industry.... some of the recent Academy nominated films were all edited on Final Cut, including the Cohen Brothers' "True Grit", and "Winter's Bone". Also, David Fincher and Francis Ford Coppola used FCP on their last films... these are all people that have access and can afford cutting their films on AVID and yet, they recently choose Final Cut Pro... so why do people even question it? :rolleyes:
---
Derrick Rose with adiZero Rose
MacRumors
Apr 25, 01:32 PM
http://www.macrumors.com/images/macrumorsthreadlogo.gif (http://www.macrumors.com/2011/04/25/federal-lawsuit-filed-over-apples-location-tracking-in-ios/)


http://images.macrumors.com/article/2011/04/25/143129-iphone_4_maps_compass.jpg

In what shouldn't be a surprise to anyone, Bloomberg briefly reports (http://www.bloomberg.com/news/2011-04-25/apple-sued-over-user-location-data-storage-on-iphones-ipads.html) that a lawsuit has been filed in U.S. federal court targeting Apple over privacy concerns (http://www.macrumors.com/2011/04/20/researchers-disclose-iphone-and-ipad-location-tracking-privacy-issues/) related to location information being stored on iOS devices and in backups for those devices. The lawsuit is almost certainly the first of many regarding this issue.Apple Inc. (AAPL) was sued for alleged privacy invasion and computer fraud by two customers who claim the company is secretly recording and storing the location and movement of iPhone and iPad users, according to a federal complaint filed today in Tampa, Florida.As we noted earlier today (http://www.macrumors.com/2011/04/25/steve-jobs-on-ios-location-issue-we-dont-track-anyone/), Apple CEO Steve Jobs has reportedly replied to a customer email denying that Apple is tracking its customers and labeling the claims being widely discussed as "false".

Article Link: Federal Lawsuit Filed Over Apple's Location Tracking in iOS (http://www.macrumors.com/2011/04/25/federal-lawsuit-filed-over-apples-location-tracking-in-ios/)
---
derrick rose wallpaper bulls.
notabadname
Mar 22, 02:01 PM
The screen is not 50% smaller. Nice way of making yourself look stupid.

Playbook has that elusive flash support out of the box which every apple fanboy wants to hide under the rug.

OS is more eloquent than iOS.

Well, if you are going to tell people their posts make them look stupid, perhaps you should consider your own, and read a dictionary before throwing around three syllable words. Your use of the word "eloquent" is incorrect. "Eloquent" is not a word that applies to a software operating system.

Eloquent: The quality of artistry and persuasiveness in speech or writing; the practice or art of using language with fluency and aptness; fluent, forcible, elegant or persuasive speaking in public.

As in; "Your post was not eloquent".
---
chicago ulls derrick rose wallpaper. derrick rose 2011 wallpaper.
Im still on for today, 4 hours and counting.
---
chicago ulls derrick rose
thibaulthalpern
Mar 31, 10:14 PM
Probably what bothers me the most about the discourse that Android is open is the underlying logic that is an implicit (or perhaps really explicit, depending on who is touting that discourse) assumption that it is democratic, liberal, progressive, and for "the people" and thus prevents a "draconian future" from happening because instead of letting corporations dictate our digital worlds, the people will a) have a say in it and b) have a choice.

Baloney!

This discourse makes a false link between software being open source and political ideology. The two are not necessarily corresponding. And furthermore, that Android is actually open source is highly debatable but I won't go there.

Why do so many technophiles fall for the discourse that open means choice means freedom mean democracy discourse? It's all BALONEY! Google isn't really interested in protecting your freedom, democracy etc.. It's really interested in surviving and making money. Let's try not to fall AGAIN for that political cover.

In this case, I find Apple much more honest. They don't talk about political ideologies like freedom, democracy etc. All they say is they want to make devices that are friendly and easy to use. They don't couch their products in political ideological terms.
---
derrick rose wallpaper bulls.
Cory Bauer
Apr 12, 08:00 PM
Yeah no kidding...they should have taken the "New" off the page at least a year ago.
No kidding, right? Also, fancy meeting you here, Jester :cool:
---
Derrick Rose Wallpapers
Damn. some of you guys are *really* reaching here.

It clearly is an issue if they have a federal lawsuit on it. The fact that Apple are rolling out an update that changes the way it works alone shows that there is clearly a problem. Apple vary rarely roll out updates that change things, even if consumers are screaming for it (mouse acceleration in OS X for example).

You refuse to accept there is a problem. You refuse to see the breech of privacy. Why? The government and Apple have clearly accepted it.
---
chicago ulls derrick rose
Hey Guys.

When do you think they'll update their website with the new "Mac Pro's"?

Regards,

George

Assuming they're released, they'd probably bring the Apple Store back online around 2:00pm.

(They traditionally take it down during a keynote...)
---
alent1234
Mar 22, 01:40 PM
Is this a joke? What specs? Where are the apps, where are amazing games, where are publications and magazines? No where to be found.

Playbook will not even scratch the surface - you heart it here first.
lulz:apple:

the web is not an app
---
Has Intel R&D come up with a new, low-power, backlit keyboard? ;)

(Figured I'd throw that out straight off, as it's bound to come up somewhere along the line)
---
Oh, and this is a more minor gripe, btu they need to pull their heads out of their asses and fix their volume licensing program, it's rubbish.
---
I remember reading a BBC news article the other month about mRAM (or magnetic RAM) which has the same write speeds as RAM, but without its volatility. It doesn't loose it's data when the power is off. Ideal for fast HDDs they say.


Yeah, I think they're calling them "Hybrid drives" where they will have some fast static RAM built into a hard drive and store the most frequently accessed part of the drive in cache on the static RAM.


On an unrelated note, wouldnt it been cool to effectivly install a whole OS on RAM. That would be noticably quicker....

You used to be able to do that with ramdisks, but getting the files onto the ramdisk took more time than just booting from the disk. Sometimes you can force the OS to keep itself in RAM when it's loaded from disk (so the OS won't start swapping itself out when it needs memory), there's a setting for this in Tweak XP.
---
Forget 3 monitors - 8 CORES. Lordy.

The move to intel was the best decision Apple made. Or just one of the very good ones.
---